OnPage at Gartner Symposium/ITxpo 2017
The OnPage team was at Orlando for the Gartner Symposium/ ITXpo this week to present the award winning Incident Alert Management Platform. The Gartner experience neatly encapsulated everything that OnPage is working towards; from the need for examining IoT ecosystems to disrupting industry norms to find new avenues for optimization. OnPage has always been at the forefront of both; closely examining industry needs and securing avenues for optimizing alert delivery, alert automation, team management and mitigating human error within mission critical events.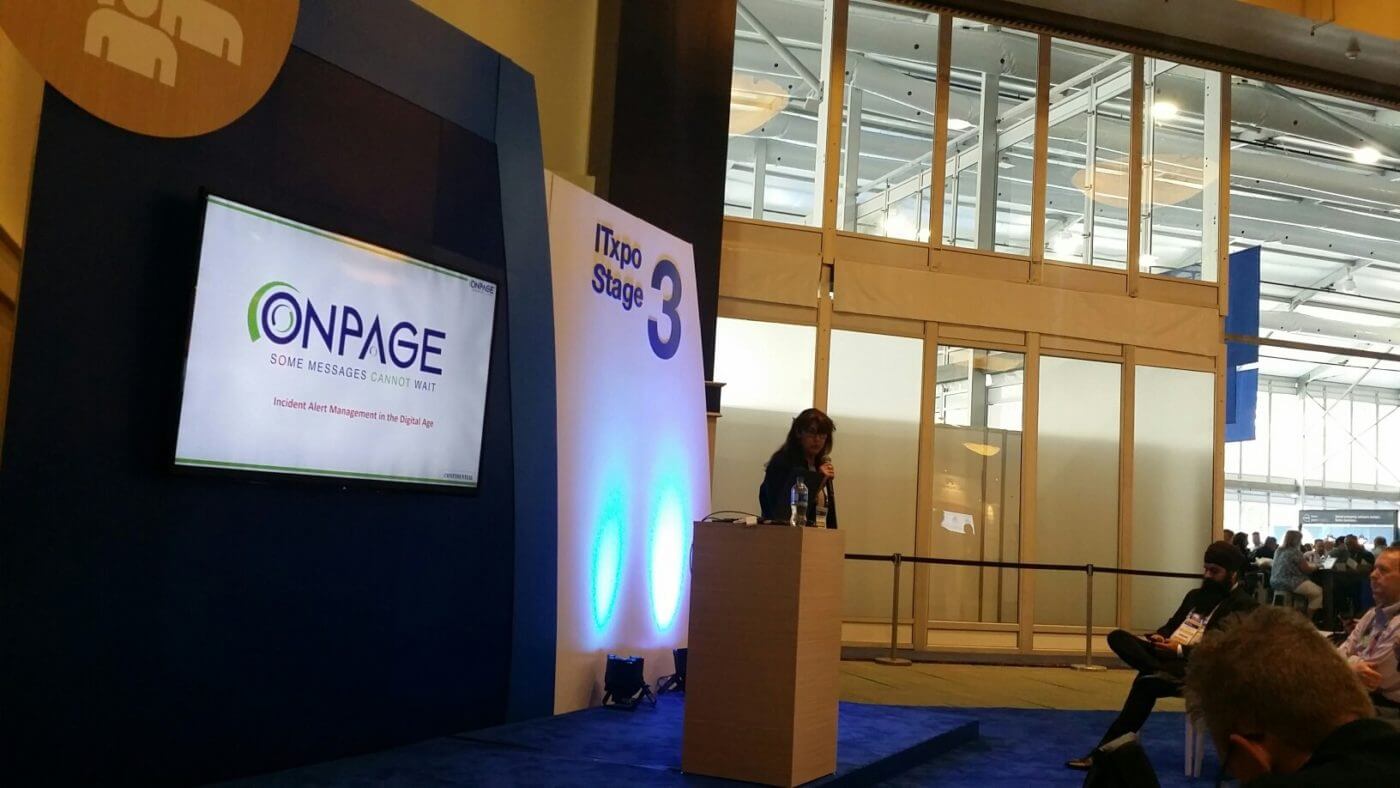 The missing element to Digital Transformation
In it's latest efforts OnPage tackles the need for critical alerting in the IoT space. OnPage's CEO Judit Sharon discussed the need to maximize digital investments with notifications. In her talk she explored how industries were desperate for digital transformation but fail to complete this transformation by not connecting their hefty investments in people, processes and automation together. What good is investing in advanced ITSM platforms and implementing the latest industry 4.0 technologies that can make autonomous decisions within micro seconds when archaic and unreliable communication technologies are used to alert an incident responder?
The need to mitigate human error
The OnPage team recognized a pattern with everyone who stopped by the booth. Prospects understood the need for digital transformation and admitted to investing in tools that they perceived would help them implement a smoother workflow but in the end they all admitted that when their IT teams needed to be notified of critical incidents, traditional and inefficient means of communication like SMS and email were used. The result? Missing messages, a plethora of human errors, negligence in handing the alerts and a lack of accountability. This "last mile" of the digital transformation is by far the weakest link in the chain and can jeopardize the entire system.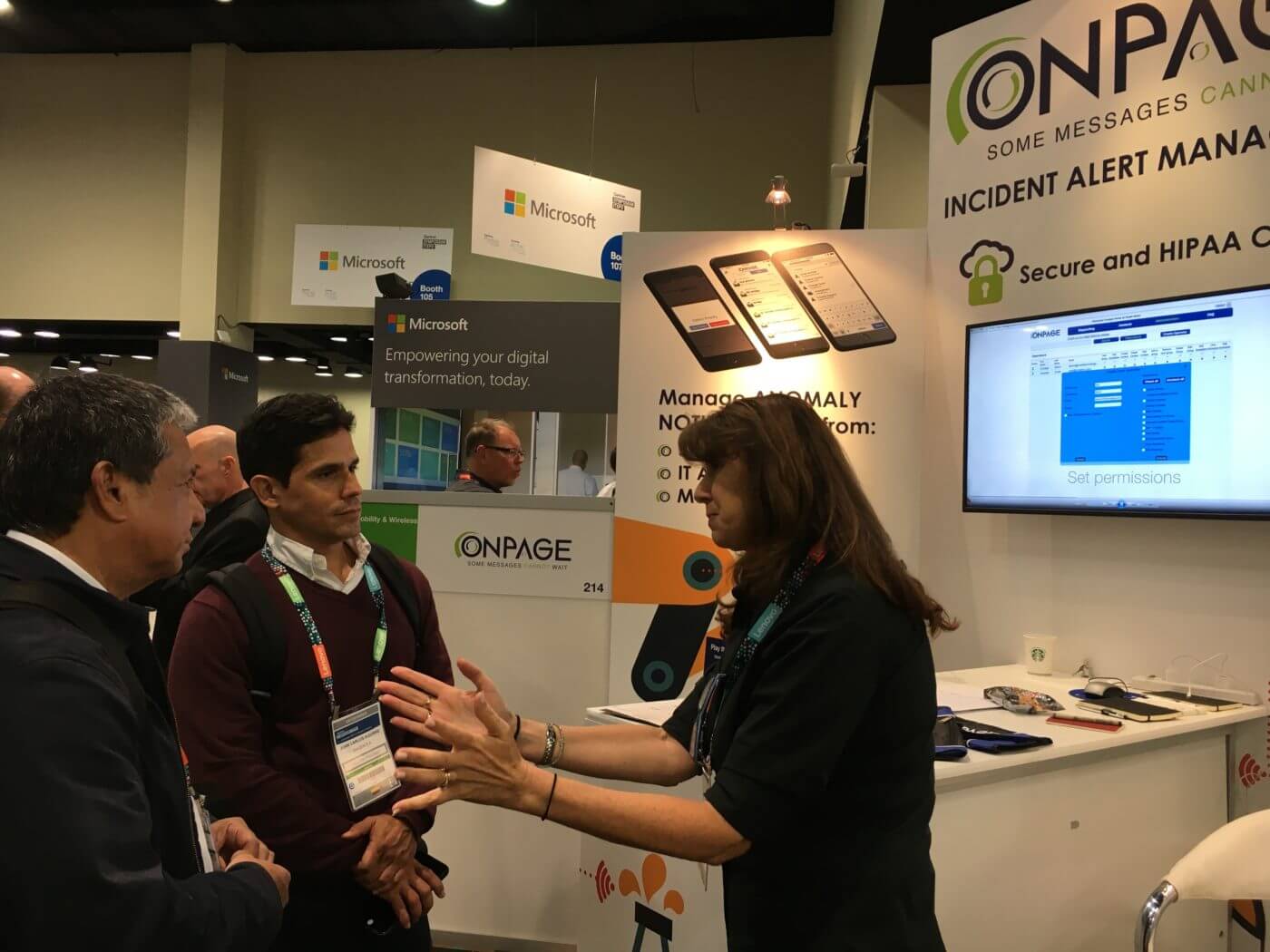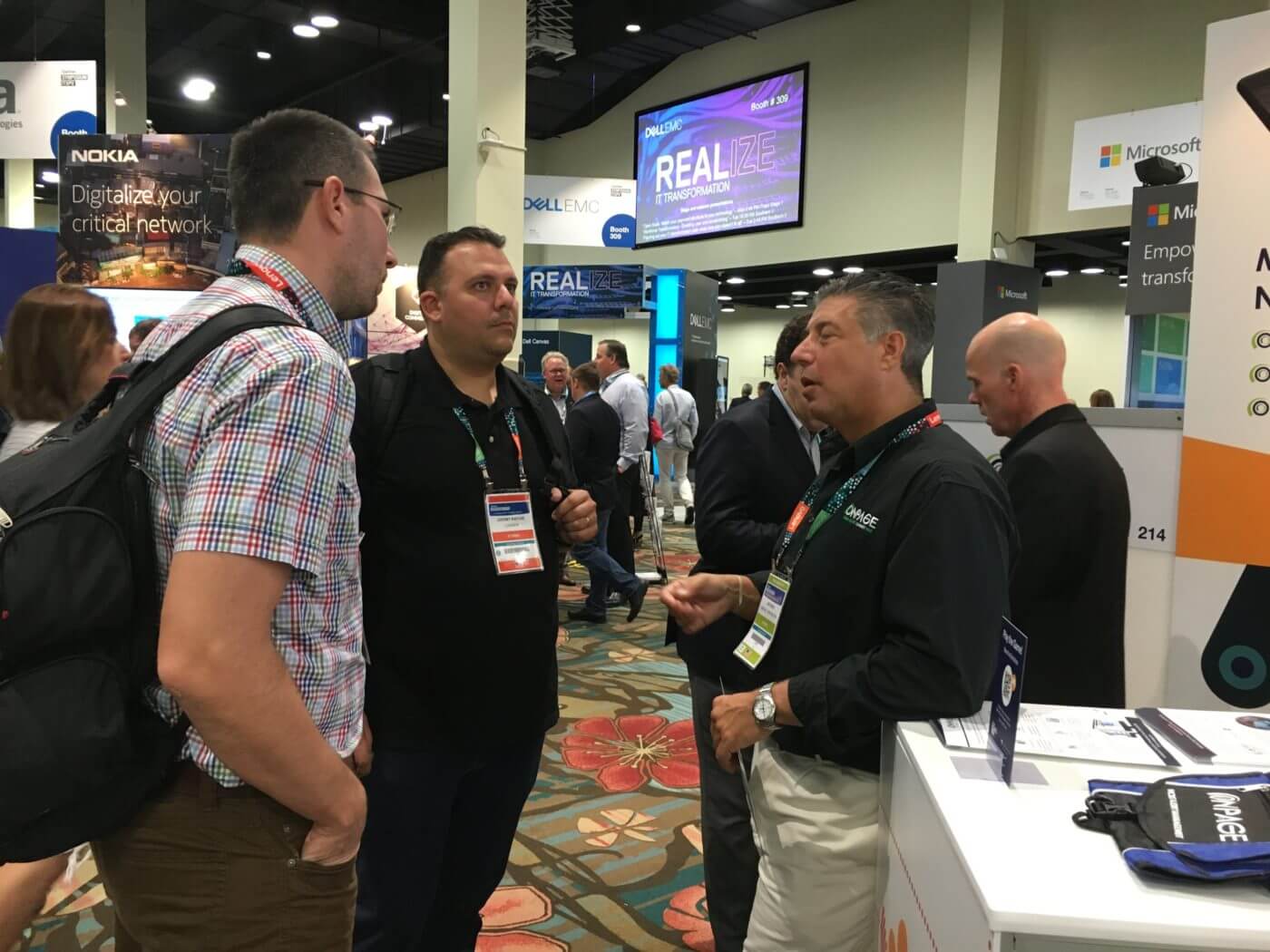 The challenge for IoT Ecosystems
Gartner, Inc. forecasts that 8.4 billion connected things will be in use worldwide in 2017, up 31 percent from 2016, and will reach 20.4 billion by 2020. Total spending on endpoints and services will reach almost $2 trillion in 2017. With these metrics is clear to see the interest in bolstering IoT ecosystems. While at Gartner OnPage announced it's PTC ThingWorx Integration. The ThingWorx platform from PTC provides broad and robust sets of integrated IoT-specific development tools for developing innovative IoT solutions for a variety of industry applications. OnPage's critical Incident Alert management engine has been certified through the ThingWorx Ready program and is available now on the ThingWorx Marketplace™.
Currently, companies spend millions of dollars on consultants, technology, sensors and software in an attempt to digitize their processes in order to gain visibility to data, monitor processes, and forecast outages or breakage before they emerge. Significant efforts have been spent on:
Collecting data from these systems
Purifying the data from noise
Tabulating and learning from the data
Predicting anomalies
This being said, the basic form of alerting when errors are detected or when  failure is predicted is to opt for  SMS or email. This collaboration with ThingWorx aims to disrupt the norm and enhance the notification process by enabling companies using the ThingWorx platform to:
Elevate critical alerting to mobile devices with persistent Alert-Until-Read
Ensure alerts are escalated based on pre-defined criteria if unattended
Provide redundancy via numerous communication channels
Create an audit-trail and provide visibility to reporting to measure workflow success and team responsiveness
Progressive notification is of significant importance for IoT solution builders. The primary purpose of digitizing processes is to gain visibility to information to increase productivity and eliminate down-time. With the introduction of the OnPage Critical Alerting Extension on the ThingWorx Marketplace, notifications from ThingWorx can get an amplified voice, enabling companies to ensure that a critical alert is attended to immediately, thereby maximizing business uptime.
"Digitization is transforming entire industries and sectors. There are very few businesses that are not affected by the digital era. Some of the information collected is just "FYI" and some is crucial, to be dealt with immediately," said Judit Sharon CEO of OnPage Corporation. "We see time and time again organizations failing in the "last mile" as they don't see the alert in a timely, reliable fashion. Now, ThingWorx solution builders who are using OnPage will be able to reap the full benefits of their digital processes."

"We welcome OnPage into the ThingWorx Ready program and are pleased to make OnPage Incent Alert engine available on the ThingWorx Marketplace. We applaud the company's vision, and welcome the opportunity to continue working together," said Kevin O'Brien, SVP, ThingWorx Platform Partner Sales, PTC.
The road ahead
With the success of Garter behind us the OnPage team is gearing up for the IT Nation show in November. To keep up-to-date with our activities follow us on Twitter and subscribe to our newsletter! To learn more about OnPage contact us .