OnPage built-in secure messaging now features templates

What are OnPage Templates?
The OnPage Templates feature enables users to send messages by inputting a pre-defined format. OnPage users can now create messages fast and streamline the formatting of their messages without having to copy/paste formats from old messages. This not only saves time but reduces errors. Users can create unlimited number of templates in what ever size they wish to be used whenever needed. You can create templates for handling certain kinds of incidents or you can create templates to forward a ticket to another incident responder.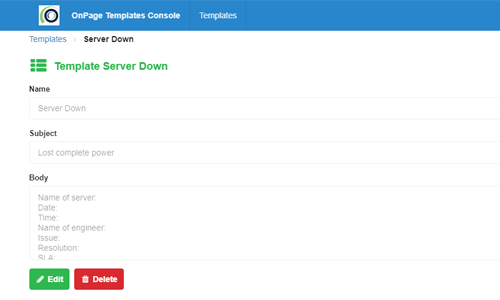 Creating a Template:
1- From the web management console, click on Select Template
2- Click on the Templates Manager
3- Click on Create Template
4- Input the required information for example: Name, Subject and Body
5- Click save
Editing  Template:
1- Click on the Template name
2- Click on edit
3- Make changes and click save again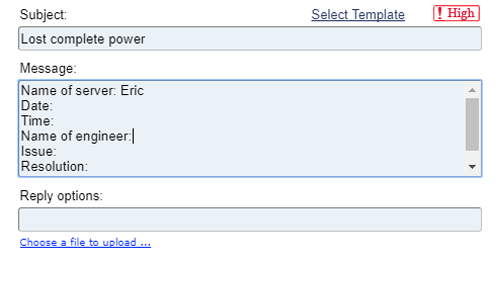 Accessing/using Template:
1- From the OnPage web management console under dispatching
2- Click on Select template
3- Choose the template you wish to use and click select
4- Make any variations and click send page.
What can OnPage do with messaging and alerting?
OnPage is recognized as a G2 High Performer for its alerting capabilities. A majority of our customers who are MSPs (managed service providers) for example, use OnPage to shoot out distinct alerts. They do this by setting up monitoring tools at their client's end and this picks up abnormalities. OnPage, in this case, offers alert automation, but that's not all we are known for. OnPage has secure messaging built into our application which allows ease of communication between teams and individuals. In this blog we will walk you through OnPage IDs, how to sync contacts and sending a message.
OnPage enables secure communication from smartphones, tablets and desktops. All messages, settings, photos, and notifications sync real-time across every desktop and device. OnPage messaging technology, combined with your iPhone or Android smartphone, guarantees nearly instantaneous, secure team communications. These messages can include images and voice attachments to enrich the message being sent so the end recipient can make informed decisions. Once the message is created the user can select the priority of the message; either "Low" or "High". OnPage secure messaging works wherever you have cellular or wireless (Wi-Fi) coverage.
What else can OnPage do?
OnPage provides persistent, secure round-trip messaging and alerts to your smartphone. In using dashboards and integrations, you get instant visibility and feedback on alerts. As part of your ITSM, you can track delivery, ticket status, receipt and even responses.
As a result you will improve MTTR and better manage your clients' ecosystem by decreasing interruptions. As an organization you will improve responsiveness to SLAs and lower your and your clients' costs.
Checkout OnPage's functionality:
HIPAA-compliant secure two-way messaging
Send messages and alerts in seconds
Individual and group escalation
Sync contacts to your device
Web based portal access
Audit trails with read/delivery confirmation.
Remote wipe capability
Multiple message redundancy and failover options
Fault proof scheduler
Real time reporting