The Five Main Components of a Fully Developed EHR System

The adoption of electronic health record (EHR) systems has seen tremendous growth across geographies, especially in the US. According to American Hospital Association data shared by the Office of the National Coordinator for Health Information Technology, over 93% of American hospitals are enabled by some form of EHR in their organization.      
Implementing an EHR system in your clinic or hospital is a big decision. You should consider the prerequisites for purchasing and using a software like this, such as technical knowledge and legal rights to data collection from patients.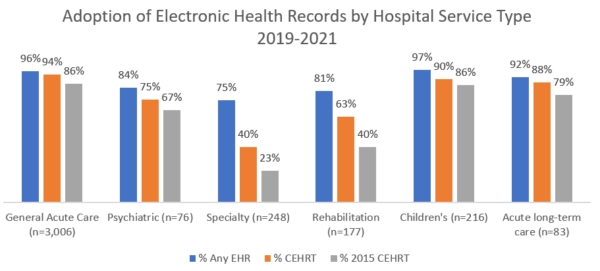 In this article, we cover:
What is EHR Software?
An EHR Software is the systematized collection of patient and population information electronically stored in a digital format. These records can be shared across different healthcare settings to improve care coordination for patients with multiple providers or specialists, leading them toward more efficient treatment options as well as better outcomes overall.
The importance of EHR software
EHR systems improve the quality of care by providing up-to-date and accurate information about your patients at any point in time during treatment. They also allow for more coordinated effort between providers, reducing unnecessary recurrences or side effects that may otherwise occur if care providers are not all acting off of the same, complete picture of the patient's health.
Key components of an EHR
The early 1960s saw the inception of an electronic medical record for the first time ever, and since then we've come a long way. The first EHR software solutions that appeared in the 1990s were simple digital documents that gained importance as interactive "partners" to doctors or healthcare facilities. Since then, EHRs have advanced to provide value far beyond just your average patient care charting system. The following are some of the most important features of an EHR Software.
Try OnPage for FREE! Request an enterprise free trial.

1. Patient Management
The patient management component facilitates the capture, storage and retrieval of up-to-date information related to new patients. 
The physician or the admission desk would onboard a new patient to their facility, seeking complete information about their insurance, past health records, emergency contact and demography.
Every patient is given a unique ID on the system, also called a medical record number. EHR refers to this number while recording all future encounters with the patient, including lab results, diagnosis, medications, visits etc.
2. Clinical Component
The clinical component builds on the patient management functionality, equipping care teams with decision support tools to deliver quality care. 
This component allows clinicians to collect and document their interaction with patients, including their history & physical plus operative notes. 
Besides electronic documentation, clinical decision support components may offer several other sub-components such as nursing and pharmacy. 
The nursing component facilitates the documentation of important health information, such as patient vitals. The pharmacy component allows prescribers to deliver safer, better quality care by placing medication orders directly via their EHR systems.
3. Secure Messaging and Alerts
As healthcare moves towards coordinated care, health IT leaders must actively seek opportunities that free healthcare information from the limitations of siloed systems. 
EHR systems integrated with secure messaging and alerting solutions offer a centralized system to streamline urgent communication flow. The integration democratizes information, unchaining it from the limitations of a gated system, and making it available for clinicians to securely view on phones and collaborate.
Time-is-of-the-essence alerts from EHR that require immediate intervention can automatically be sent via OnPage securely to the right on-call medical teams. Teams can use this information to either deliver prompt patient care or seek consultation from other on-call specialists. Hospitals using EHR integrated to a secure messaging solution experience nearly flawless response rates to alerts.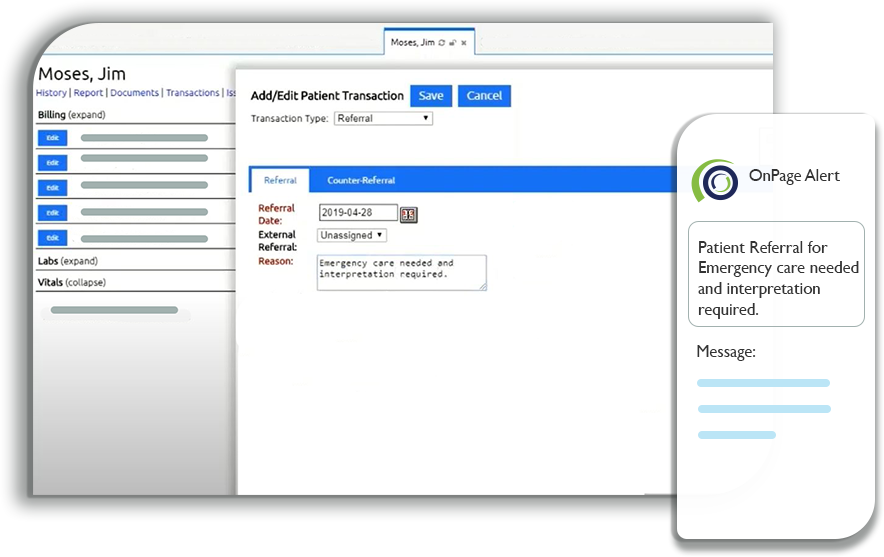 4. Financial Dashboards
Though secondary to its impact on care provided to patients, EHR software also offers care providers powerful financial insights. An Electronic Health Record software contains features that allow all users, not just those working within finance, to analyze a company's overall operations through easy-to use and clearly disclose dashboards.
With features that allow users of all levels the ability to generate reports on clinical and financial metrics, these programs have become an invaluable resource in today's competitive environment where margins are tight due to cost-constraints.
5. Revenue Cycle Management (RCM)
Data shows that practices using an EHR with integrated RCM platforms collect 29% more on billed charges when compared to nonintegrated practice management and revenue performance tracking. With a centralized dashboard for real-time data, your organization can make informed financial decisions and continue sustaining care for your patients.
Conclusion
When implementing an EHR software, providers should keep in mind all the key components that will help them manage their workflows and improve patient care. In some cases, it can increase clinic revenue by as much as 11% while decreasing hospital admittance rates up 20%.
To ensure success with an EHR system, it is necessary to work in partnership with a healthcare software development company that has a strong track record and industry expertise. The IT partner will help determine what technologies are best suited for integrating the system into clinical processes while also ensuring compliance across multiple regulations including HIPAA or GDPR protection of patient data.