OnPage Ranks No. 1 for Mobile Healthcare Communications
At last month's HIMSS17 conference in Orlando, Florida, OnPage Corporation received an award for the top-ranked Mobile Healthcare Communications platform.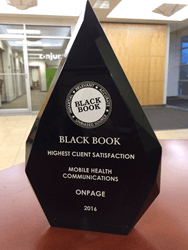 For the first time, OnPage Corporation has been named the top-ranked Mobile Healthcare Communications platform for the healthcare industry by Black Book Research. The award was given at the HIMSS17 Conference in Orlando, Florida in which OnPage was a participant. Black Book Research is an unbiased industry-leading source for polling, surveys and market research. OnPage was recognized for obtaining 'Highest Client Satisfaction' in its category.
Used by over 10,000 doctors, nurses, clinics and IT desks in healthcare, OnPage provides healthcare with a solid critical alerting and messaging platform that ensures messages are never lost. OnPage provides messaging and a pager in one solution, allowing for greater efficiency and revenue by improving communications among staff.
OnPage ranked first in multiple areas including reliability, support and customer care, breadth of offerings, varied client settings, and delivery excellence across all user types.
"Being a top-ranked mobile health communication application is particularly rewarding because it demonstrates OnPage's ability to consistently meet and exceed the needs of healthcare practices in an ever-changing healthcare environment," said CEO Judit Sharon. Sharon continued by adding that "OnPage is a powerful HIPAA compliant critical messaging and alert management system designed to help healthcare providers operate more efficiently and effectively."
About OnPage
OnPage is a cloud-based, industry leading smartphone application for high-priority, real enterprise messaging. Used by numerous hospitals as well as IT providers, the OnPage application addresses the need for critical incident response management and secure, time-sensitive messages.
OnPage takes mobile communications to the next level with the latest all-in-one app features. The web-based on-call scheduling tool enables enterprise users to plan ahead and route prioritized messages to the right person, at the right time, every time.
Thousands of healthcare providers, doctors, field engineers, law enforcement, nurses, emergency responders and disaster recovery teams depend on OnPage for rock solid reliability every day.
About Black Book™
Black Book Market Research LLC, provides healthcare IT users, media, investors, analysts, quality minded vendors, and prospective software system buyers, pharmaceutical manufacturers, and other interested sectors of the clinical technology industry with comprehensive comparison data of the industry's top respected and competitively performing technology vendors. The largest user opinion poll of its kind in healthcare IT, Black Book™ collects over 540,000 viewpoints on information technology and outsourced services vendor performance annually.
To learn more about OnPage…